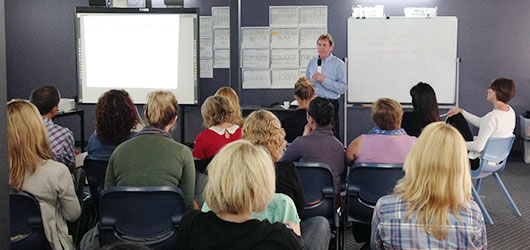 Some of the audience at the Gold Coast seminar
I would like to thank all those who attended my seminars in Melbourne, Gold Coast, Brisbane and Adelaide as well as my talks at the Learning Differences Convention in Sydney. I have been greatly hearted by the feedback and I am looking forward to returning next year and continuing my very positive links with the ADA. I would also like to thank Jodi and Aaron from the ADA and also Kay Bosworth from Kidman Park Primary School in Adelaide for hosting the SA event.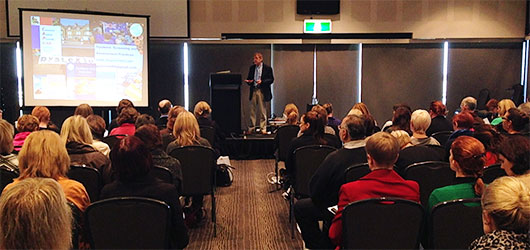 Learning Differences Convention Sydney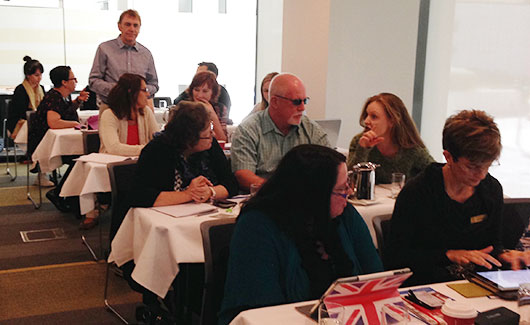 A section of the audience in Brisbane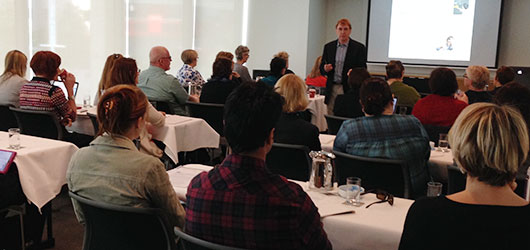 Brisbane Workshop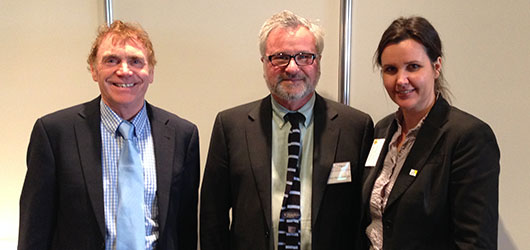 Dr Gavin Reid with Al Galaburda, Harvard, USA and Jodi Clements ADA President Australia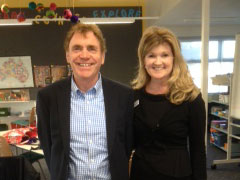 Dr Gavin Reid with Kay from Kidman Park School, who hosted his Adelaide seminar
Feedback from participants

"Thank you Gavin. Your work will help us make a difference for students with learning differences at Northern Bay P-12 College, Corio/Norlane. Geelong Victoria."
Dianne Hickey, Equity and Inclusive Practices, Northern Bay P-2 College
"We were honoured to have Gavin Reid's wealth of knowledge and experience at our Learning Difference Convention in Sydney this year. Gavin added a particularly unique collection of expertise to our event – as a parent, teacher, psychologist, researcher and author.  His talks were not only informative, they were inspirational, and delivered as a perfect example of how we need to adapt our teaching to enhance learning and bring happiness into schools. We look forward to welcoming him again soon as we are all hungry for more".
Jillian Zocher, Founder, Learning Difference Convention, Central Coast Dyslexia Association.
Dear Dr Reid,
Having used your Dyslexia Handbook for many years, I was delighted to be able to hear you speak in person in Sydney. Your presentation was a excellent. It was informative, practical and perfectly pitched for the audience.
Many thanks,
Alison Irving, Sydney
"My name is Rebecca Bennett and I attended Dr. Gavin Reid's tour on Dyslexia on Friday 1st August in Brisbane.  It was fantastic and I am still buzzing from all the information that I gathered from that day, so thank you Australian Dyslexia Association (ADA) for bringing Dr. Reid to Australia".
"I attended your seminar at Robina State School in the Gold Coast earlier this week and was so enlightened and motivated by your presentation.  Thank you so much".
Nicole Jakich, Support Teacher: Literacy and Numeracy, Queensland, Australia
Melbourne, Australia July 25th  2014
"Thanks Gavin for the talk you gave yesterday at Bialik College in Melbourne.
I learned so much and there were lots of idea I can bring into my teaching".
Barry Rasmussen, BRIDGES  Multisensory Learning Center Melbourne, Australia
"I am a parent that has just had the privilege of sitting through Gavin Reid's very informative seminar today. He has definitely empowered me to feel like I have many choices and support available for myself and my child".
GK, Melbourne
"Dr Reid, I thoroughly enjoyed your presentation and learnt so much. Thank you for your passion and compassion".
Effie Toulakis, Melbourne